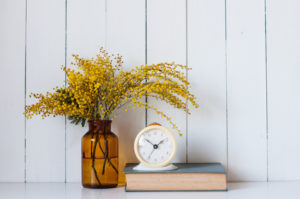 Wondering how the process works? The Clear Your Space process is tried-and-true, and we look forward to hearing from you soon!
Fill out the contact form here, email, or call 617-645-4851 for a complimentary phone consult.
We will answer any questions you may have and learn a bit about your needs. If you like what you hear, we can set up your first appointment. Our regular business hours are Monday through Friday from 8:30-5:00. We will email you a New Client Form to fill out at your convenience. This will help you think more about your project, and let us know how to best help you and respect your individual needs. You will also receive a copy of our Policy Form that shares our cancellation policy, confidentiality, and pricing.
When we arrive at your home, we begin an assessment.
We will chat a bit, and then have you show us your home, focusing especially on the areas you would like organized. We will take notes and ask questions. This process takes about an hour. Then we set goals and get to work on the space of your choosing. Most sessions are three hours, although we can work longer if the client wishes.
Nearly all of the time, we work alongside our clients.
We will take everything out of the space, sort into categories, and look for items that need to be removed. We downsize as requested by the client (anything broken, outgrown, or unneeded) and give advice for what to keep. Then, we figure out the best storage options for easy access. We do our best to use what you already have, but if new storage containers or systems are needed, we will measure and make recommendations. Clear Your Space can shop for you or send you photos/web links/shopping lists so you can make the purchases.
At the end of the first session, we will assess how far we've gotten and make a plan to complete the job.
We will set up the next session and leave you with homework if you'd like to keep the momentum going in between sessions. After just a few hours, you will see a wonderful improvement to your space and also feel your stress level decrease. Our goal is to clear your space and ease your mind!
If you would like to become more organized and efficient, please contact Jodie for a free phone consultation at 617-645-4851. You might also click here to read some frequently asked questions.