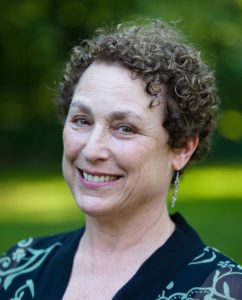 Jodie Siegel has worn many hats throughout her career. She has worked as an engineer and project manager — both roles that require a lot of organizing and people skills. In her specialized field of textiles & environment, she spent a lot of time managing "stuff" — what we really need, what to do with it when we remove it, and how to progress without reverting to old ways.
She founded Clear Your Space in 2010, and since then she has worked on big and small projects — both short and long term — to serve the needs of her clients. They describe her as energetic, smart, flexible, compassionate, and efficient. Her ultimate goal is to help them not only clear their space but ease their minds. She takes a room that feels cramped or awkward and transforms it into an inviting space, all while putting her clients at ease as she guides them through the process. She is so proud of her clients and their accomplishments and loves seeing how they respond to their newly organized spaces. As a professional organizer, Jodie uses all of her skills and experiences to find creative solutions to her clients' clutter and space challenges.
In her free time, Jodie is an artist and a potter and believes that aesthetics make a world of difference to how people feel in their space. She stays in shape at the gym and on her bike, which helps her keep up with her two teenagers and Shih-Poo named Moxie. Jodie enjoys spending time in her basement to sort, declutter, and organize. She loves the physical nature of her job and is always moving. It energizes her!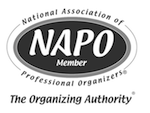 Jodie is a member of the National Association of Professional Organizers (NAPO) and NAPO-New England. She is also a member of the elite "Golden Circle" for established NAPO organizers.
Jodie looks forward to helping you clear your space and ease your mind! To discover an organized, efficient, more productive life, please call her at 617-645-4851 or click here to read about our organizing and downsizing services.